Recording Now Available! 
Part 2 in our COVID-19 Vaccine Webinar Series
In this webinar moderated by EPIC Pharmacy Practice Leader Bob Eisendrath, Sree Chaguturu, M.D., Senior Vice President, CVS Health and Chief Medical Officer, CVS Caremark answers medical questions about the vaccine. EPIC Senior Wellness Consultant Craig Schmidt also presents best practices for keeping the workplace safe.
Dr. Chaguturu Discusses:
Vaccine pipeline updates
Clinical updates (variants and efficacy)
Frequently asked clinical questions
The Biden administration's COVID-19 vaccination plan
How distribution works
How CVS is planning to support employers through vaccination roll-out
In case you weren't able to join us, we invite you to watch a recording of this webinar.
For more information about this event, please contact Nancy Cox at nancy.cox@epicbrokers.com
---
Guest Speaker: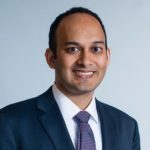 SREE CHAGUTURU, M.D.
Chief Medical Officer, CVS Caremark
Sree Chaguturu, M.D. is Chief Medical Officer of CVS Caremark, where he focuses on enhancing the quality of services provided to millions of its members and patients, while also contributing to the overall mission of CVS Health. He most recently was Chief Population Health Officer at Partners HealthCare. In this role, he led the system's accountable care organization, one of the largest in the nation serving over 600,000 lives. Previously, he was a health care consultant at McKinsey and Company.
Dr. Chaguturu is also a practicing internal medicine physician at Massachusetts General Hospital and a Lecturer at Harvard Medical School. His articles have appeared in publications such as the New England Journal of Medicine, JAMA, and Health Affairs.
Dr. Chaguturu received his BA degree in biology from Brown University and his doctorate of medicine degree from Brown University Medical School. He completed his internal medicine and primary care training at Massachusetts General Hospital.