EPIC Impact™ is a comprehensive suite of performance-based consultative solutions that reduce operational risks at an enterprise-wide level. Our process is a distinct departure from the siloed approach commonly practiced in today's corporate environment. We integrate our team of consulting experts across multiple lines of business to create a holistic process that generates significant financial improvements throughout your organization. 

Using our comprehensive suite of product offerings, we help you manage risks that can threaten your enterprise and jeopardize profitability. Our thought leadership in analytics, workers' compensation, profit protection and training & awareness delivers value beyond the bottom line.
Workers' Compensation Solutions
Workers' Compensation Liabilities Reduction Solution
Our Workers' Compensation Liabilities Reduction solution combines advanced analytics with our multi-disciplined expertise to achieve quantifiable reductions to your historic, present and future liabilities. We apply an enterprise-wide approach to addressing both pre- and post-loss solutions that bring together multiple departments in a shared purpose to safeguard your workforce and achieve significant cost savings.
Read about additional details and benefits to this approach in our article.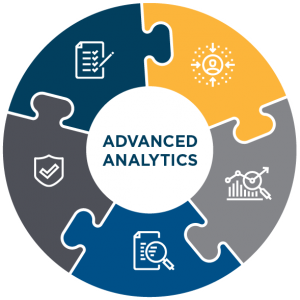 Human Resources
Hire, re-hire, and onboard process
Safety
Training and awareness to establish behavior changes and reduce unsafe acts
Risk Management
Claim management and resolution
Operations
Operational response and training for new claims
Finance
Actuarial reconciliation and management of collateral
Workers' Compensation Claims Closure
Our Workers' Compensation Claims Closure solution focuses on resolving claims while reducing duration and cost.  Unlike traditional closure projects, we lead with our analytics to create custom scoring tools that prioritize and resolve claims that have the greatest opportunity for impact. By overcoming adjuster demands, jurisdictional challenges, and litigation, our solution results in fewer open claims, lower costs and time back in your day.
Our proprietary analytic tools are applied to the entire claim inventory, not just the legacy claims
The claim inventory is prioritized by the closure score, where a higher score represents a greater opportunity to mitigate cost and bring the claim to closure
Claims present different opportunities; the closure score is calculated based on each claim's unique profile
Frequently recurring opportunities to reduce duration and cost are addressed with the client, third-party administrator (TPA)/carrier and claim partners (i.e., defense counsel) to improve the process at the root cause level to enhance the best practices and future handling
Contact us today to get an estimate on the savings and return on investment for your organization.
Profit Protection
Profit Protection solutions are critical to the success of any business operation. Loss, including shrink, waste, damage and spoilage, can have a severe impact on profitability and performance. In fact, the majority of profit-eroding behaviors are the result of operational and administrative errors, internal theft and external theft. These behaviors not only reduce profits but have a negative impact on customer experience, employee morale and employee turnover. This solution includes:
Outsourced Loss Prevention Services
Safety Program Development and Audits
Physical Safety & Security Programs
Business Performance Improvement
Our
Training and Awareness
team partners with you to develop customized, targeted training communications and manages the process from strategy through execution. We continuously monitor, measure and adapt the strategy to maximize effectiveness and target areas that have a lasting effect on your culture.
Our team listens to your challenges, assesses existing infrastructure, and collaborates on solutions internally and externally. Then, we deliver relevant content and designs from our in-house creative team via whichever channel you choose. We use your data to develop targeted, relevant and frequent communications to tackle your biggest pains.
Benefits include:
15% average reduction in safety incidents

27% average employee retention rate

Increased adoption rate (of programs) by employees

Boosted employee morale
Training
Digital Learning
Micro-burst Learning
Videos, Animation
Game Learning
Mobile Learning
Classroom Materials
Coaching
Manager Talks
Leader Guides
Tracking Tools
Coaching and Reinforcement Cards
Awareness
Digital Campaigns
Print Campaigns
Measurement
Data Collection
Tools
Analysis
Audits
Learning Management Systems (LMS) Integration
Recognition
Giveaways
Program Launch
Monthly Participation
Goal Achievement
Special Achievement
Promotions